Looking around to find a financial institution in Singapore that can grant SME business loans of $50,000 funds in 2 hours (and up to $250,000)?
MPM Capital is here to help you and your business.
We have only basic business requirements that is prior to handing out a loan to you. Our only criteria require that we look at how much revenue your business is making on a yearly basis, and also consider how long you have been running your business.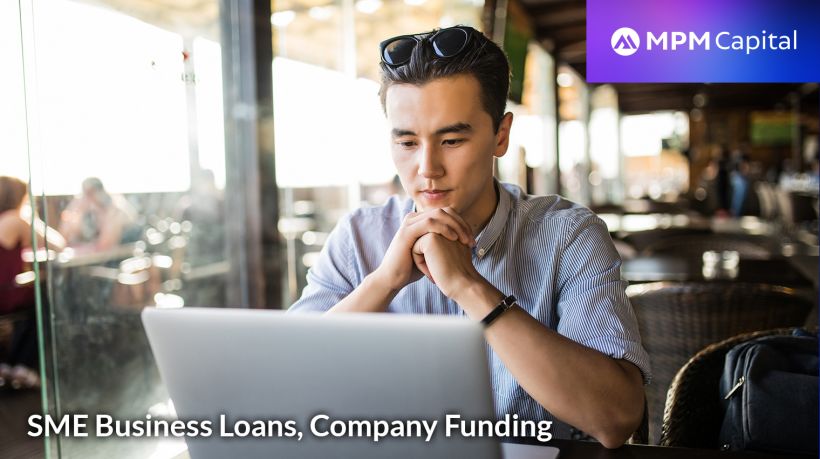 Securing funding for a small or medium-sized business in Singapore is not easy. Our highly competitive economy largely favors established businesses over smaller SMEs, making the whole process of securing funding almost impossible. To make matters worse, things have not been made rosy by the endless economic slowdown and global uncertainties.
That is why at MPM Capital, we wish to change this paradigm. We know businesses, especially SMEs, are worth the investment since they are the backbone of every nation. Most notably, we believe in the individuals managing these ventures, that they have what it takes to be successful and that all they require is someone to have faith in them and help them develop.
While many banks are hesitant to offer small business loans in Singapore, mostly because of the risks associated with them, we are willing to provide funding with minimal hassle. And you can pay off our business term loan over short/long term.
The Loan Process
We have been offering business loan in Singapore for long and we know most SMEs do not make the grade for traditional bank loans. Our chief concern is to help them survive the tough economic environment regardless of the banks' viewpoint. We have streamlined and simplified our loan process and businesses are always guaranteed of funding as long as they have the few required documents with them.
To qualify for our business loan Singapore, complete the simple online application and email/fax the following details to us:
NRIC copies of the owners or business directors
Bank statement of the business for the last 6 months
Most recent ACRA printout
Tenancy proof for the business premises
Income tax statements
Proof of assets/Title deeds
P&L statement
Upon verification, your loan request will be accepted and we will contact you immediately so as to not delay the processing to you. We target to serve you at the quickest time possible.
Best Time To Take A Singapore Business Loan in 2018
When Expanding Your Business
If your venture is doing well, you may opt to expand by branching out or opening new outlets. Unless you have been saving money for this very purpose, you should consider taking a business loan. The funds can help you purchase or rent a commercial space, employ new employees, or buy new stock. Apparently, if you get more funds, it means that your expansion plans will not meddle with the existing branch's operations or profits.
For Marketing Purposes
Sometimes, key marketing campaigns require huge budgets. Therefore, consider applying for a Singapore business loan to help you boost your marketing strategies. With a strong campaign, you can be able to achieve excellent results that will unquestionably translate into larger profits.
Get Advanced Equipment And Technology
For any Singaporean business wishing to keep up with competition, there is need to have the necessary equipment and be up to date with the current technology. A small business loan Singapore can help you purchase the latest equipment and thus improve your product and service delivery.
Accessing Your Business Needs
In order to make the most out of your Singapore business loan, it is essential to carefully evaluate your past, present and future state. As a matter of fact, this will give you an opportunity to find out exactly how much you require, to expand your venture. Remember not to borrow in excess as this will present you an extra repayment burden, which is completely pointless.
Why Choose MPM Capital For Your Small Business Loans
While there are many Singapore business loan providers, our loan products stand out. The following are some good reasons why you should choose us:
Easy Application And Processing
When you provide all the required details, our team will contact you and schedule a meeting to complete the application process. Immediately you sign the loan agreement, the funds will be reimbursed to you on the spot. It's that simple!
Flexible Loan Products
We understand every business is unique. Our team will discuss the options available, to offer a personalized Singapore business loan which suits your needs.
Flexible Payment Schedule
We have designed our loan products in such a manner that, it easier for businesses to pay back. It is also good to note, our Singapore business loan interest rates are way lower compared to the ones offered by typical lending institutions, with reasonable repayment schedules.
Excellent Customer Service
Our knowledgeable and friendly team is always ready to respond to any issues concerning the loan application process or terms of agreement.
Banks Say No, We Say Yes!
Many banks may be hesitant even just to have a sit down with you. Do not worry. At MPM Capital, we recognize the bittersweet journey of Singaporean entrepreneurs and that is why we are always ready to support their businesses with alternative financing.
Simply contact us and we will we glad to schedule an appointment, where we can talk about your needs and your possibility of getting a loan.
What are the SME Business Loan Requirements and Criteria for MPM Capital?
We encourage both responsible borrowing and responsible lending and would not want to put you in a position where you were overextended and could not make your loan payments without straining. Our simple requirements are as follows:
Yearly minimum revenue of not less than $5,000.
The business should be incorporated and operational for not less than 6 months.
If you meet this criteria, simply get in touch with us and we will be happy to speak to you about the money you need.
Our SME business loans can be used for the following reasons among others:
1. Expanding Business Location
If you have outgrown the location you are currently operating from and need to find a bigger space, speak to us about taking out a loan to help with the costs that accompany that move. A bigger space can be in the form of finding an additional location or it could mean moving your premises altogether. You will need to consider upfront costs and also the change in overhead costs at the bigger facility.
2. Equipment Purchase
If you need additional equipment to help you improve service delivery such as IT equipment, machinery and the like, you may need a loan to finance that. It is important to ensure that you get the equipment that you need, not just equipment that would be nice to have.
3. Purchase Inventory
Most businesses find inventory to be among their biggest expenses. Every small and medium sized business needs to ensure that they keep up with customer demands by ensuring that inventory is replenished in a timely fashion. To be successful, you will need top quality options in plenty.  When you need to purchase inventory in large amounts, we can offer you the cash to do so.
4. Take Advantage Of A Great Opportunity
Sometimes an opportunity presents itself and it is just too good to ignore. Whatever the opportunity may be, you will need to weigh its potential versus the potential of debt. Look at the return on investment by comparing the loan cost to the revenue you can generate from the deal. If the opportunity outweighs the debt, then you should definitely take out a loan to ensure that you take advantage of the opportunity.
5. Recruitment
When starting your business in the first year, chances are that you need to be carrying out a variety of roles to keep the company spending to the minimum.  However, as the business continues to grow, you need to start finding other people to help you.  It may be time to hire a bookkeeper, marketer, fundraiser and customer support. During this moment you may need to take out a SME business loan to hire specific talent to help increase your revenue. The rule of thumb is that if hiring this talent will increase how much you are making, then taking out a loan for recruitment purposes may pay off.
Of course, you can always speak to us if what you need the money for differs from the above. We will be ready and waiting to hear from you and to walk you through the loan process.
What Should You Look Out For In A Loan? Here Are The 6 Points To Consider When Assessing A Company Business Loan
SME business loans are offered by more than twenty financial institutions and banks in Singapore. Ideally, you should look at the various offerings and settle on the best. There are a variety of things to consider in your assessment: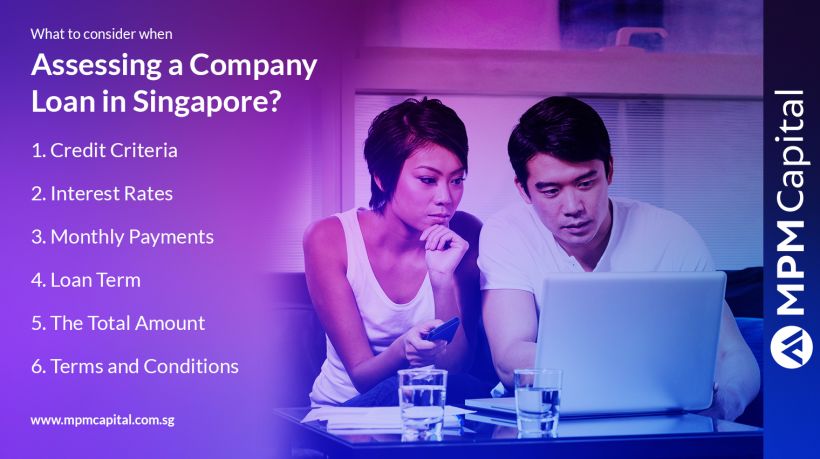 1. Credit Criteria
Some institutions are a lot stricter than others. The traditional banks for example, have stringent guidelines that make it very difficult for an SME to get funding without first meeting all their requirements. Other funding institutions like MPM Capital have easier credit criteria, meaning that chances of getting funding are higher.
2. Interest Rates
Interest rates tend to be different in the various institutions. This is important because it lets you know how much you will be paying above and beyond the principle amount. Find out what percentage they are charging and also look to see whether the interest rate is fixed or flexible.
3. Monthly Payments
If you have a fixed interest loan, then you will know exactly how much money you will be paying from month to month. This allows time for planning, which is great. If the rate is flexible, then you can expect that monthly figure to vary from month to month as the interest rate fluctuates. The business should be able to comfortably handle its monthly financial obligations and pay the loan without too much strain.
4. Loan Term
It is important to see how long it will take you to pay off the loan. Of course, it is better if the term is shorter because even though the monthly amount you pay will be higher, overall, you will pay less in interest. On the other hand, a longer term will give you respite in monthly payments, but you will pay more in interest.
5. The Total Amount
Always look at the bottom line to see how much you will owe when all is said and done. This figure usually includes the principle amount, the total you will pay in interest and the fees charged to process the loan. The loan that offers you the least amount owed is ideal provided that you can afford to make the monthly payments with ease.
6. Terms and Conditions
Be sure to read the fine print. In this section, you will be able to tell if there are any penalties for late repayment of the loan. You will also be able to detect any hidden fees that may be covertly placed in the contract.
Carrying out a comparison of the terms of every financial institution that offers businesses loans can be time consuming and frustrating as well. That is why we offer you a solution that allows you to quickly and easily assess SME loans in one minute!
By using our free loan assessment tool online, you are able to compare the various business loans that your business is able to qualify for. This will help you save time and it will make sure that you get the very best business loan offers that you are eligible for.
If you are feeling that your business growth is hampered by lack of capital, you can secure the future of your business by accessing the funds that you need to grow and expand the business. Feel free to try our business loan assessment tool now to immediately see the most suitable SME business loans available to you.
Have you decided? Click here to apply for your desired business loan through our online form now, and we will get back to you within 2 hours time.